8 : Elevated Equipment
8
Elevated Equipment
5.8a Resilient Energy Systems:
Floodproofing.
8
Elevated Mechanical and Electrical Systems
With more extreme weather events causing coastal flooding, elevating or relocating mechanical and electrical equipment out of flood-prone basements and lower floors increases building resilience.
Critical equipment can be elevated in place or moved to higher floors, the roof or an outdoor platform. Equipment that could be at risk for water damage in case of flooding includes:
Mechanical
Boilers and furnaces.
Water heaters.
Fuel storage tanks.
Fire-suppression sprinkler controls.
Elevator machine rooms.
Duct work.
Electrical
Electrical panels and switch gear.
Backup generators.
Alarm controls and components.
Service wiring and receptacles.
Energy management systems.
Telecommunications equipment.
Electric and gas meters.
Utility shut-off switches.
Relocating heavy equipment onto a roof usually requires a crane, which will have to be coordinated with municipal authorities. Relocating electrical equipment will require approval from the utility. If you plan to change in-unit wiring, you will have to coordinate with residents.
If only shallow flooding is anticipated, raising equipment in place to a platform or slab is typically the most cost-effective approach, and is preferable to component protection (See Strategy: Dry Floodproofing).
Within coastal flood zones (Zone V), elevating equipment above the BFE is required for NFIP compliance for new and substantially improved buildings. Dry floodproofing equipment in place is not an approved strategy.
Elevate or relocate mechanical and electrical equipment.
Audit the facility's heating and cooling needs. Consider downsizing equipment, purchasing more efficient equipment or decentralizing the system. Envelope efficiency upgrades can reduce the demand on mechanical systems and allow them to be downsized (See Strategy: Envelope Performance). It may be less expensive to buy equipment than to relocate heavy, inefficient older equipment.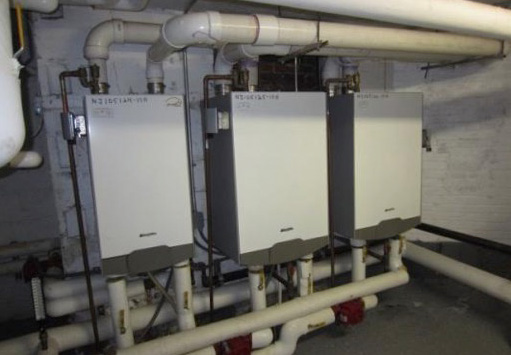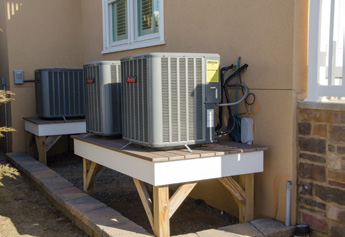 Use your elevation certificate to identify the Base Flood Elevation to determine possible relocation (See:Getting Started).
Possible locations include converted areas on floors above the DFE, an exterior courtyard on a raised platform or the roof.
Consult the local utility to discuss relocation options for equipment and service entrances. Consider bringing in an electrical contractor or architect for advice.
Consult a structural engineer to ensure the upper floors or roof are capable of supporting the relocated equipment. Rooftop equipment must be properly secured against high winds.
Consider the type of enclosure necessary to ensure water-tightness and wind-resistance if equipment is moved outside or on the roof.
Code-mandated electrical fixtures and switches below the DFE should be on a separate circuit that can be shut off when the area is flooded, allowing the rest of the electrical system to run normally. Any wiring below the DFE should be rated for wet locations.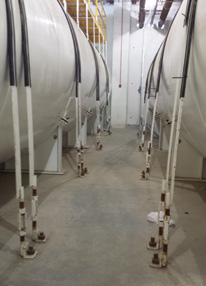 Anchor fuel storage and tanks.
Fuel is typically stored in basements. A partly-filled tank exerts tremendous buoyancy and, during a flood, can break free of the floor and float.
Proper anchoring will prevent tanks from moving, lines from rupturing and fuel from leaking into floodwaters, while preventing fires and other environmental hazards. Both permanent and temporary fuel tanks should be strapped and anchored to a concrete slab or mounted on anchored pillars.
When relocating equipment, consider access for servicing, cleaning and inspection.
Relocation also provides an opportunity to clean ducts or heat exchanger coils and carry out general service and efficiency retrofits. Even if a heating plant is being replaced, the distribution system may need cleaning or other improvements. These improvements can be highly cost effective.
Case Study:
Elevate Boiler and Electrical Equipment
Case Study
Elevate Boiler and Electrical Equipment
Background
Located in the AE Flood Zone, the 22-unit building at 134 Avenue C, New York is operated by the Lower East Side People's Mutual Housing Association (LESPMHA). During Superstorm Sandy the basement was flooded, damaging the mechanical and electrical systems, boilers and meter rooms.
Strategy
LESPMHA is beginning work on a new rooftop boiler room that will protect the elevated system from the elements. Electrical systems and meters are being installed on the first floor, above the BFE, and emergency systems, HVAC and plumbing are being repaired and upgraded.
Cost
Elevating the boiler will cost $315,000 and the electrical components, $174,000. Funding for the project came from a Community Development Block Grant, Disaster Recovery (CDBG-DR).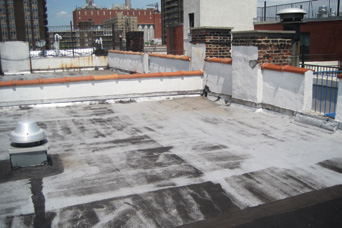 071