A Resource for the Resourceful:
Protecting and Adapting Affordable Housing to Climate Change
Climate change poses a unique risk to multifamily affordable housing. Already in woefully short supply, the number of homes with affordable rents is threatened to erode even further by the proliferation of superstorms, hurricanes, wildfires and other natural disasters. The net result on the people who live there has been, and will be, catastrophic. If they lose their home, there are few alternatives.
A lesser-known reality of climate change is its disproportionate effect on low-income communities and people of color. The legacy of discriminatory housing policies, including redlining, which led to pervasive divestment in communities of color, means that these same communities are likelier to face climate risks without the resources to recover after disaster strikes. 
The good news is that steps can be taken to fortify affordable housing against climate change. This site – Climate Safe Housing: Strategies for Multifamily Building Resilience – offers practical guidance for affordable housing owners both to reduce a building's vulnerability to extreme weather along with strategies to adapt to changing climate conditions. 
Enterprise Community Partners is working with partners across the industry to increase the supply of affordable housing while advancing racial equity in communities across the country. We're committed to partnering with the affordable multifamily housing community to protect people and property well before the next storm hits.
About Enterprise Community Partners
Enterprise is a national nonprofit that exists to make a good home possible for the millions of families without one. We support community development organizations on the ground, aggregate and invest capital for impact, advance housing policy at every level of government, and build and manage communities ourselves. Since 1982, we have invested $54 billion and created 873,000 homes across all 50 states, the District of Columbia and Puerto Rico – all to make home and community places of pride, power and belonging. Join us at enterprisecommunity.org.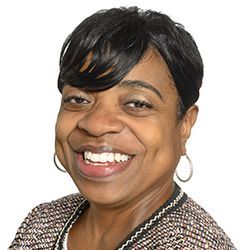 Lori Chatman
President, Capital Division