19: Organizing for Community Resilience
19
Organizing for Community Resilience
19
Organizing for Community Resilience
Collaboration with other multifamily housing organizations can make your resilience plan stronger and more effective. Organizations can share their experiences in resilience planning and emergency preparedness.
Coming together with other housing organizations can help you identify local and shared resources, pool information about equipment and infrastructure pricing and the best ways to get residents involved.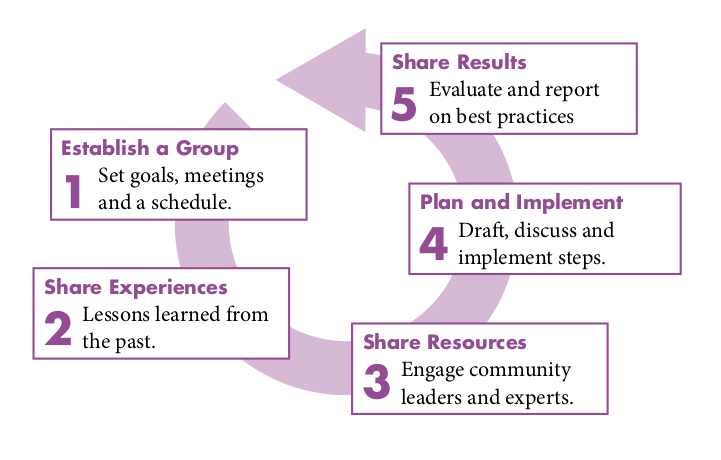 Organizing a group.
To start a multi-organizational learning group, identify a facilitator and make a list of potential members. The facilitator will schedule meetings and run them, draft agendas and keep gatherings productive and focused.
Explore private and government funding to enhance your collaboration's resilience capacity.
Actions of an effective collaboration.
Develop a group mission statement beginning with its function and purpose. This will create group identity and structure.
Logistics. Each organization should commit two staff members to attend group meetings and represent the organization, conveying information to organizational leadership. Schedule meetings on a consistent basis. Send out the agenda a week in advance.
Capacity building. Invite local government officials such as council members and community board representatives and technical experts to build your group's capacity and connection to the neighborhood.
Develop a communication platform which group members can easily access. Develop an Email list to support communications between meetings. Establish a communications plan to remain in touch during a disaster.
Funding. Apply for philanthropic and government funding.
Encourage the group to devise strategies for their buildings and surrounding areas. Ask group members to invite building managers, emergency preparedness coordinators and other management members to meetings. Field staff are the first line of defense during emergencies, and their participation in your meeting is vital.

Case Study:
Setting up a Resilience Multifamily Housing Learning Collaborative
Case Study
Setting up a Resilience Multifamily Housing Learning Collaborative
Background
In the wake of Superstorm Sandy, Enterprise brought together 12 affordable housing organizations from New York and New Jersey for a two-year learning collaborative program designed to build resilience. Participants manage 293 multifamily buildings with 14,500 housing units.
The goal was to identify shared best practices and challenges in response and recovery after Sandy, and to develop a long-term resilience plan for multifamily housing.
Strategy
Enterprise facilitated the group's meetings and development. The group met every three months and each meeting featured a speaker. At the end of the two-year period, the accomplishments included:
A unique emergency plan and protocols customized to each organization.
Resilience assessments and capital plans for 56 vulnerable buildings, and the implementation of a variety of resilience measures from on-site generators to backflow prevention valves.
A framework for multifamily resilience which divided resilience planning into four themes: Resident Resilience, Building Resilience, Organizational Resilience and Community Resilience.
The development of a series of tools promoting emergency preparedness and resilience for multifamily buildings.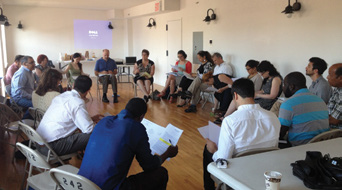 Case Study:
Large-Scale Resilience Retrofit for Affordable Multifamily Housing
Case Study
Large-Scale Resilience Retrofit for Affordable Multifamily Housing
Background
Arverne View is an 11-building, 1093-unit complex of affordable housing in Far Rockaway, Queens, NY. Far Rockaway is a peninsula between the Atlantic Ocean and Jamaica Bay located in the FEMA AE flood zone.
The complex suffered extensive damage during Superstorm Sandy. When the resilience retrofit began, the complex was in disrepair – 350 units were vacant, many uninhabitable because of water leaks, mold and inadequate envelope sealing.
Strategy
L+M Development Partners Inc. led a renovation of the entire complex, employing several of the strategies in this manual.
These energy efficiency measures were also installed: ENERGY STAR appliances, LED light fixtures, motion sensors in the stairwells and hallways and low-flow water fixtures.
Cost
L+M financed the acquisition and construction using New York Housing Development Corporation (HDC) taxable and tax-exempt bonds, equity and existing restated debt. Energy upgrades were sponsored by the Multifamily Performance Program of the New York State Energy and Research Development Authority (NYSERDA).
Savings
With the resilience retrofit the development:
Reduced energy use by 30 percent.
Cut private flood insurance premiums.
Filled all 350 vacancies.
Significantly lowered resident turnover.
Improved rent collection rates.
Reduced climate risk.