Putting it All Together
Once you determine which resilience strategies to pursue, begin pre-development. This section will help you determine who should be involved, what agencies and regulations can help and what public funding may be available.
Pre-development using integrative design
Conventional building design involves a series of hand-offs from owner to architect, from builder to resident. Not all participants are brought into the planning and their needs, expertise and insights may be missed. Incompatible design elements are often discovered late in the process, when it is expensive to make changes.
Save time and money and assure quality control by using an integrative design approach, bringing together everyone who should be involved in the beginning stages of your retrofit. The integrative design process involves collaboration by key leaders, staff members and design professionals from start to finish.
Review the Enterprise Pre-Development Design toolkit for an overview of the process.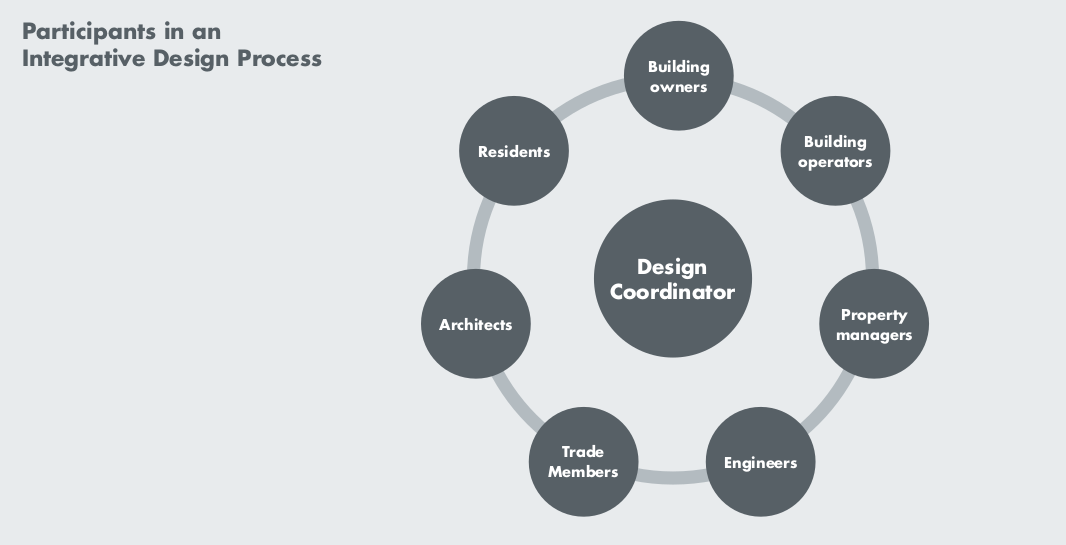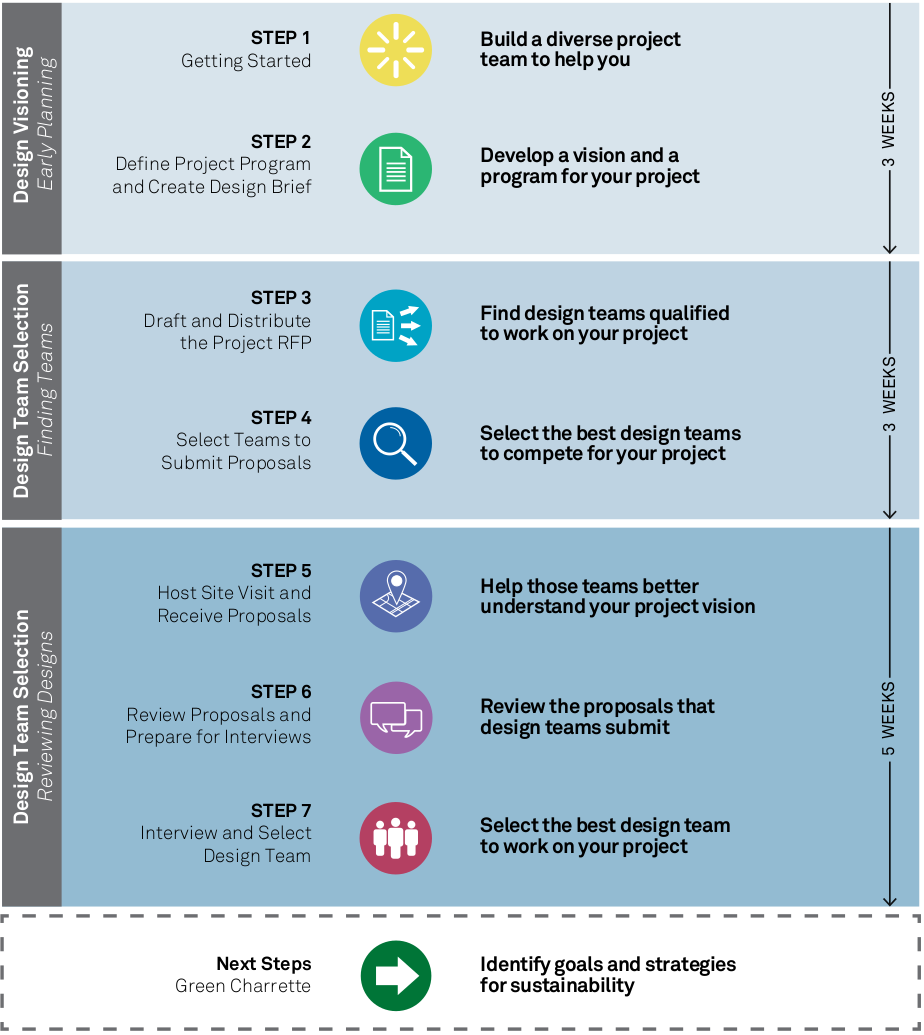 Integrative design resources
Who should be involved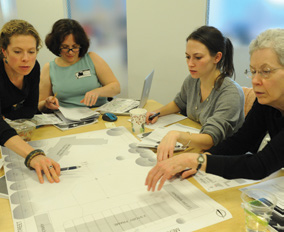 In the retrofit process, a variety of key people should be involved in design, building and operations:
Architects
Building Architect: Responsible for design, drafting and project management. Provides guidance on code compliance and regulatory issues such as ADA compliance.
Landscape Architect: Designs and implements the outdoor elements of a project, including stormwater management techniques.
Engineers
Civil Engineer: Designs infrastructure including roads, bridges, site-work, canals, dams and buildings. Should be included in decisions about site design and the interaction between building infrastructure systems and the larger community.
MEP (Mechanical, Electrical, Plumbing) Engineer: Designs the building's infrastructure systems, including heating and cooling, ventilation, power distribution and loads, lighting, security and alarm systems, potable water inflow and sewage outflow. Should be involved in decisions concerning the movement of mechanical equipment.
Structural Engineer: Ensures the building structure can withstand a certain amount of weight and forces from earthquakes, high winds and heavy snowfall. Should be involved in strategies for dry floodproofing, elevators and other issues which affect the building structure.
Other key people
Asset Manager: Verifies the financial sustainability of the retrofit strategy.
Building Science Consultant: Performs building performance and efficiency testing, benchmarking and monitoring.
Contractor: Responsible for construction work.
Local Floodplain Manager: Oversees community-level flood preparation efforts, maintains insurance and FEMA documentation and issues permits for development in floodplains.
Property Manager: Responsible for collecting rent, tenant relations, maintenance and repair and maintaining a budget. Familiar with building staff and operations.
Building Superintendent: Responsible for day-to-day operations, this is your most critical link to the building.
Residents: Should be consulted and informed about building improvements and construction schedule.
Surveyor: Makes measurements to determine property lines and collects measurement data for engineers and contractors. Provides elevation certificates.
Utility Company: Coordinates efforts to move or upgrade electrical or gas delivery systems.
Vendors: Supply information and requirements about the equipment they sell or manufacture.
Insurance Broker: Reviews your risk, which determines your policy premium levels. Engaging your broker in the resilience planning may help reduce your insurance premiums.
Regulations + compliance
Navigating the many local, state and federal regulatory agencies involved in compliance and granting permits for resilience-related retrofits can be daunting. Some resilience improvements may call for additional compliance issues—for instance raising residential floors may trigger additional ADA compliance. For most strategies in this manual, you will only need to engage your local building department through your architect or general contractor. Several strategies require no external approvals and can be implemented in-house.
Public agencies.
These agencies are involved in shaping a retrofit decision process.
Federal Agencies: Minimum general standards.
| | | |
| --- | --- | --- |
| | FEMA / NFIP | Makes recommendations on resilience issues and administers the National Flood Insurance Program [NFIP], which uses that advice to determine insurance premiums. |
| | Department of Housing and Urban Development (HUD) | HUD finances and supports an array of multifamily housing. Funding from HUD may come with particular compliance requirements. |
State Agencies: Stricter community-level standards.
| | | |
| --- | --- | --- |
| | State Historic Preservation Offices [SHPO] | Provides recommendations and regulations for buildings in special historic preservation areas. |
| | Environmental Protection | Responsible for wastewater and stormwater management and enforcement. Regulates excavation and construction in coastal and ecologically sensitive areas. Broadly regulates fuel and chemical storage. |
Local Agencies: Most specific neighborhood and building-level standards.
| | | |
| --- | --- | --- |
| | Floodplain Management | Maps flood hazard areas, implements local flood-protection measures and mitigation. |
| | Buildings | Develops and enforces building occupancy codes and regulations. |
| | City Planning | Develops and enforces zoning and land-use rules. Regulates and keeps records of buried and above-ground public utilities. |
| | Fire Department | Develops and enforces fire codes, regulates fuel storage, maintains entrance, exit and evacuation requirements for buildings. |
Substantial improvements
Code regulations and NFIP requirements are generally stricter on new construction and substantially damaged or rehabilitated buildings. If your work qualifies as a substantial rehab, you may need to undertake other improvements to comply with codes and minimize your insurance premiums.
| | | |
| --- | --- | --- |
| Substantial improvement | = | The cost of the improvement ≥ 50% the market value of the pre-improved building. |
| Non-substantial improvement | = | The cost of the improvement |

Special permitting zones
Different guidelines apply to different property types and zoning. If your building is designated historic or is near an ecologically sensitive area, you will have a different set of guidance. An architect can help determine how your zoning designation will affect your retrofit. Your state historic preservation office (SHPO) can provide a list of architects experienced in historic buildings.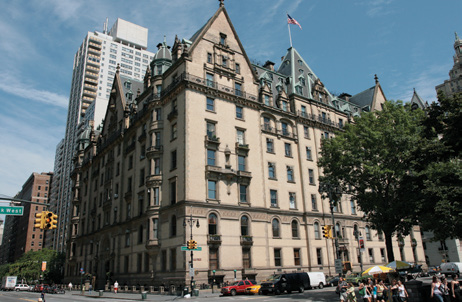 When flood insurance is required
If a property is located within the 100-year floodplain and you have a mortgage from a federally-insured bank, you are required to carry flood insurance. You may purchase insurance through FEMA's NFIP or your insurance broker. FEMA also determines what mitigation measures will reduce your NFIP premium.
"NFIP floodplain management regulations provide significant relief to historic structures. Historic structures do not have to meet the floodplain management requirements of the program as long as they maintain their historic structure designation. They do not have to meet the new construction, substantial improvement or substantial damage requirements of the program. This exclusion from these requirements serves as an incentive for property owners to maintain the historic character of the designated structure (44 CFR §60.3)" Floodplain Management Bulletin Historic Structures, FEMA P-467-2
Regulatory resources
Funding a resilience project
Due to shifts in budget priorities at the federal, state and local levels, funding availability varies from place to place and year to year. These agencies may offer funding for resilience projects.
Federal
FEMA offers federal funding for pre- and post-disaster planning and retrofits through a variety of grant programs.
Department of Housing and Urban Development (HUD) offers grant opportunities for affordable housing development and preservation.
The Environmental Protection Agency (EPA) funds projects that improve water infrastructure and the nation's watersheds.
The National Oceanic and Atmospheric Administration (NOAA) offers funding to make coastal communities more resilient to climate change and rising sea levels.

The Sea Grant Program provides integrated research, communication, education, extension and legal programs to coastal communities.
State and local
State offices administer the Weatherization Assistance Program (WAP), which provides funding for energy efficiency and envelope upgrades in low-income housing.
State environmental protection agencies may fund more targeted stormwater management-related projects than those receiving federal funding from the EPA.
Funding for energy-efficiency upgrades may be offered through local energy-efficiency agencies. In New York, the New York State Energy Research and Development Authority (NYSERDA) provides support through its Multifamily Performance Program (MPP).
Local government offices may offer funding to further environmental goals including clean air, clean water and carbon reductions, especially in urban areas.
Non-Governmental and private organizations
Non-profits and philanthropic organizations may offer implementation and technical support for retrofit projects.
Utility companies may offer rebates or trade-in programs for more efficient fixtures and appliances that reduce energy demand.
Funding resources
144